It's a special moment when someone tells you your work made a difference in their life. Retired Dodge naturalist Eloise Dietz says that "out of the blue, very touching" message came to her in May 2020 in an email from a long-ago camper.
Meg Smolinski, a Maryland resident who grew up in West St. Paul, says she specifically remembered Eloise because they both have red hair. But her memories of Dodge Nature Center go deep. She recalls attending every single Dodge camp offered in the late 1980s and early 1990s.
"I remember enjoying that we were always outside," Meg says. "I was proud of myself for knowing the trails and getting to go to the Lilly Property. It was a big deal if you got to go there, or cross Marie Avenue to hike."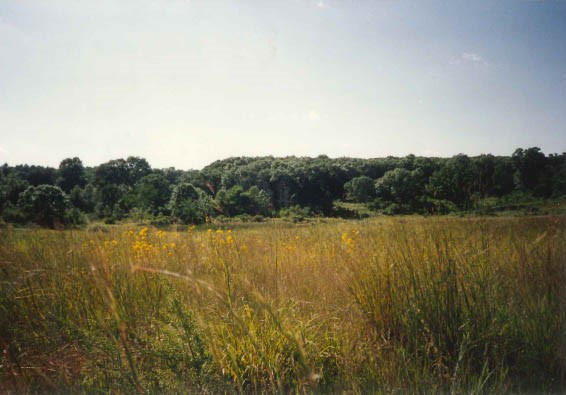 A restored section of the Lilly Property prairie, circa 1990.
She can still name specific activities she did—scavenger hunts for parts of plants, like maple helicopters—and special places like the farm and the boardwalk over the pond.
"I loved Dodge as a kid," she says. "It was a wonderful, enriching place. And now I get to do that kind of work."
That's because Meg spends her workweek in the woods, creating wildlife habitat right on the grounds of the University of Maryland. The UMD Arboretum and Botanical Garden comprises the entire College Park campus and is a Level IV arboretum, the highest level awarded by the ArbNet Arboretum Accreditation Program. It has been designated a Tree Campus USA for 12 consecutive years, a distinction held by only 25 institutions nationwide. Spread over 1,300 acres, there are dozens and dozens of gardens, many highlighting native shade plants and pollinator-friendly flora.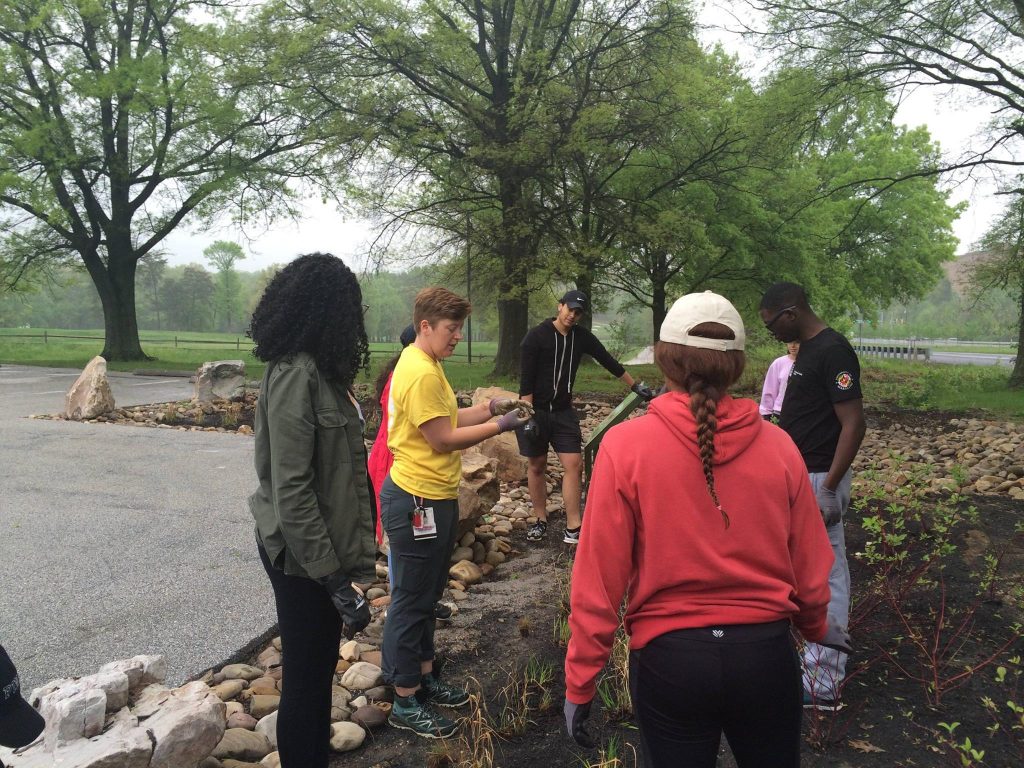 Meg (in yellow t-shirt) instructs volunteers how to maintain campus gardens. 
That takes a lot of hands to maintain, and Meg regularly gathers volunteers and student groups for service projects. She leads tours, teaches classes, and is the staff advisor for the community learning garden, which is donating 100% of its produce to the campus food pantry during the COVID-19 pandemic.
When Meg had her first baby last year, she realized how much time parents and children need to spend time together—especially in the beauty of the nature. This spring, she piloted a new program called "Walk with an Arborist...and Your Baby!", a 45-minute tour that provided fresh air, exercise and nature learning to all participants.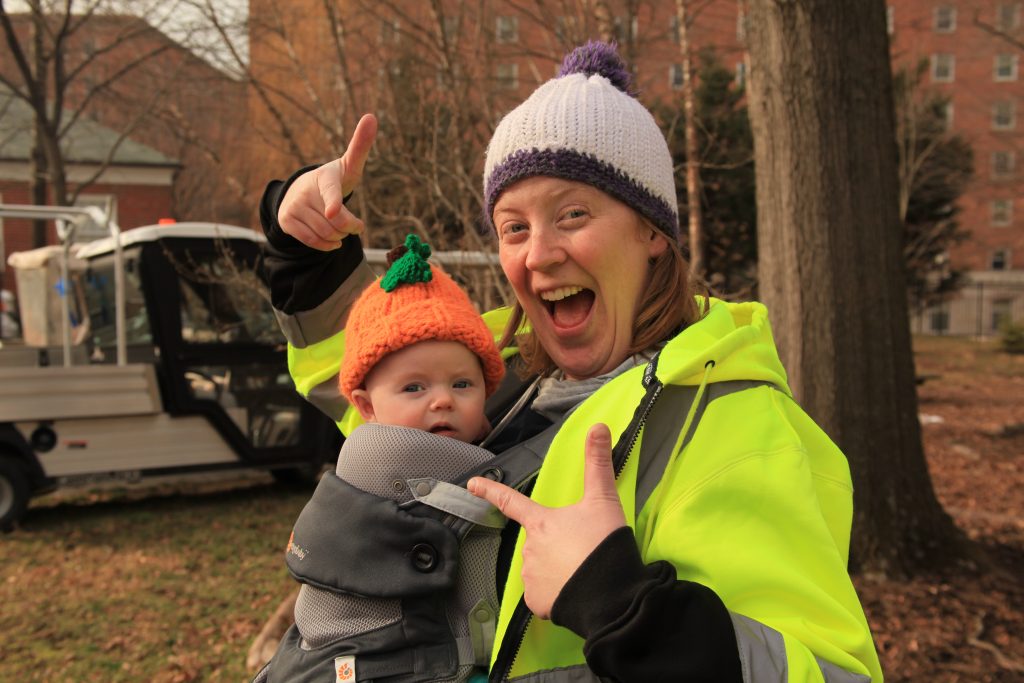 Meg and her daughter are ready to lead "Walk with an Arborist... and Your Baby!," a tour of the University of Maryland Arboretum and Botanical Garden.
After graduating from the University of Notre Dame with a degree in art history, Meg began a promising career as a museum administrator for the Smithsonian Institution. But she couldn't ignore the pull of the outdoors. She left the Smithsonian to go back to school for a degree in ornamental horticulture in 2016. A year later, she became a certified arborist.
It was a significant career pivot, and it dawned on Meg one day that her drive to become a horticulturist was connected to her early outdoor experiences at Dodge Nature Center.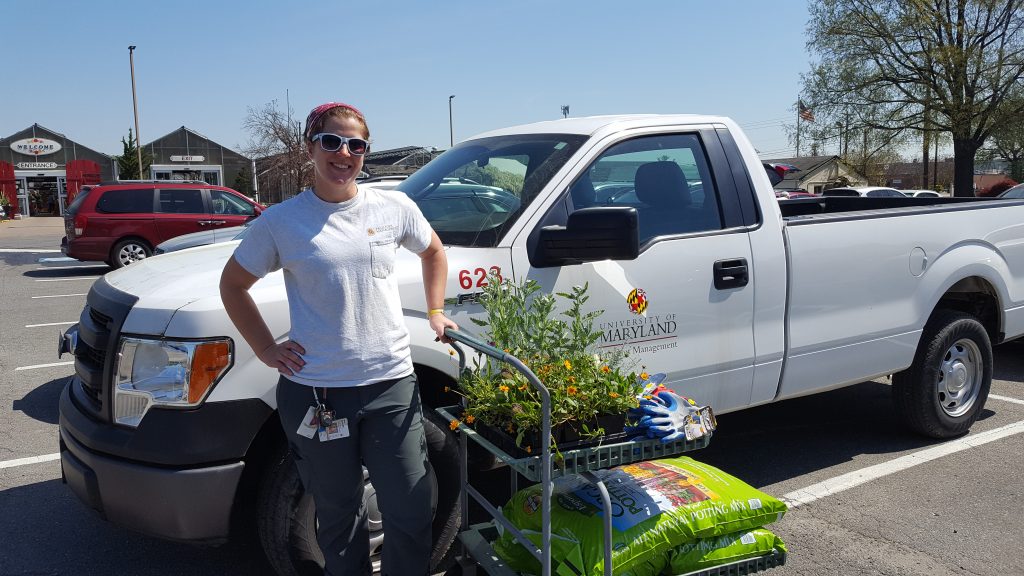 Meg readies annual and perennials for spring planting in campus gardens.
She emailed info@dodgenaturecenter.org, writing in part:
"I remember a woman with red hair (because I also have red hair) whose name was Eloise. I'd like to let her know where I have ended up and that I think a large, large portion of my career choice was because of the time I spent at DNC."
That set off a string of heartfelt, happy emails between the two women. "[Meg's story] makes me aware that what we do at Dodge, it impacts lives," Eloise says. "It's special and meaningful work."
When Meg was a camper, Eloise was a seasonal naturalist. She went full-time at Dodge in 1990 and retired last year after more three decades on staff. For her, and the kids too, camps were about creative exploration.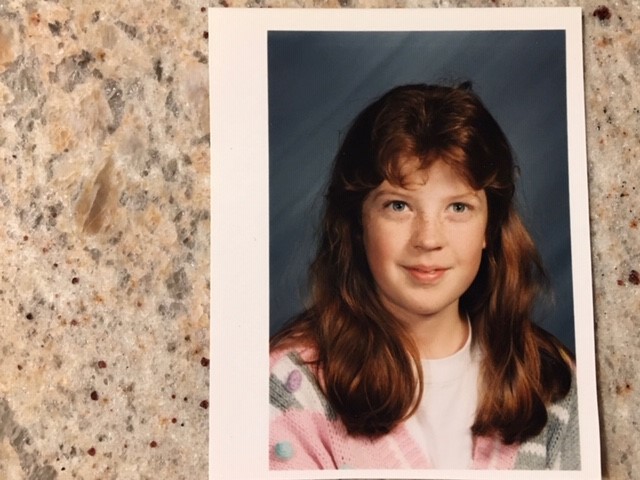 Meg in an elementary school portrait, taken at the time she was a Dodge camper.
"We always went all out," she says. "We got to be creative and follow our passions. Rock Hounds, birding camps, maybe something about mushrooms? All of sudden you're an expert. Dodge let me do that."
She wasn't surprised to hear that Meg was a repeat participant in Dodge camps. "Kids sense the magic of it," Eloise says. "When they return year after year, it's almost a rite of passage for them."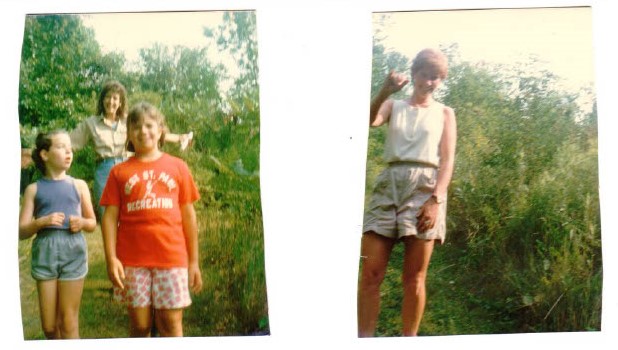 Dodge naturalist Eloise Dietz, right, with campers and another former naturalist in the late 1980s.
"Every school group and camp is different and dynamic," she says. "I was never bored because every day and every season is different at Dodge."
Meg and Eloise have made plans to meet up at Dodge the next time Meg returns to Minnesota. They'll walk the woods to relive summer camp memories.
Their red hair is a trait shared by only 1 to 2 percent of the human population. But it's clear Dodge is in their DNA, too.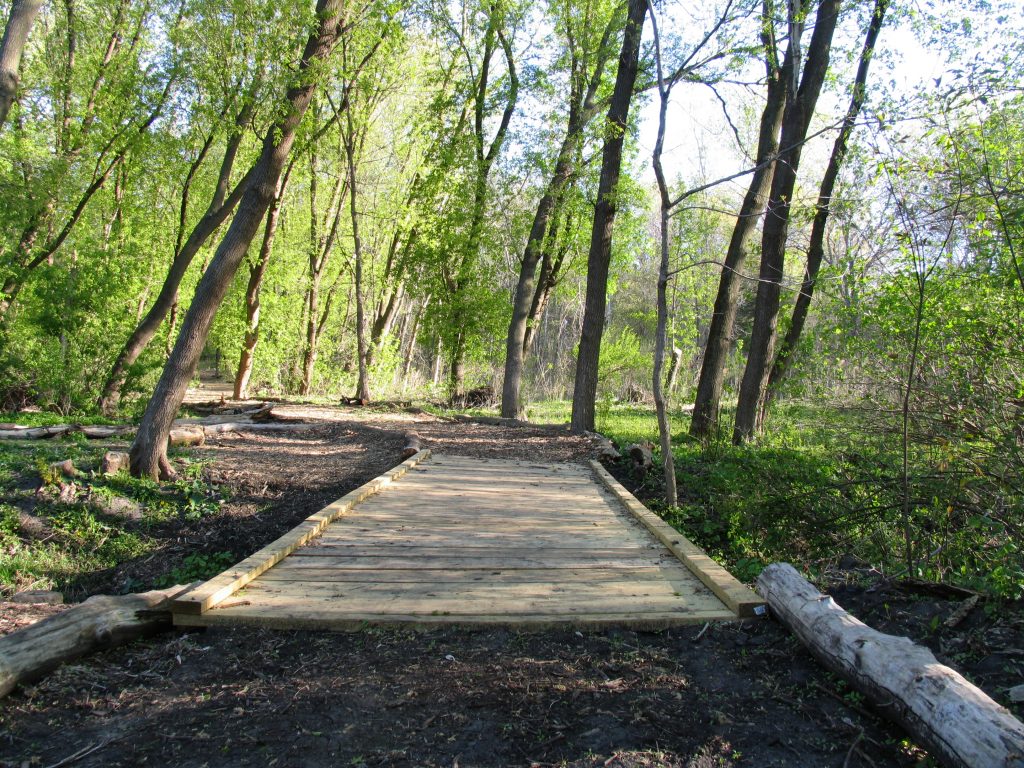 A section of trails at Dodge Nature Center, used by many past campers and future campers to come.
Photos courtesy of Meg Smolinski. Header photo of University of Maryland campus courtesy of Carmichael Library (Flickr Creative Commons).