When students circle up for story time at Dodge Nature Preschool, often they're outside. They gather around a campfire, balance on logs, or snuggle in soft grass at their teacher's feet. If inside, they're surrounded by natural materials, too. There's plenty to distract them, yet all their eyes and ears are glued to the book in their teacher's hands.
That's because Dodge teachers know how to pick picture books for preschoolers.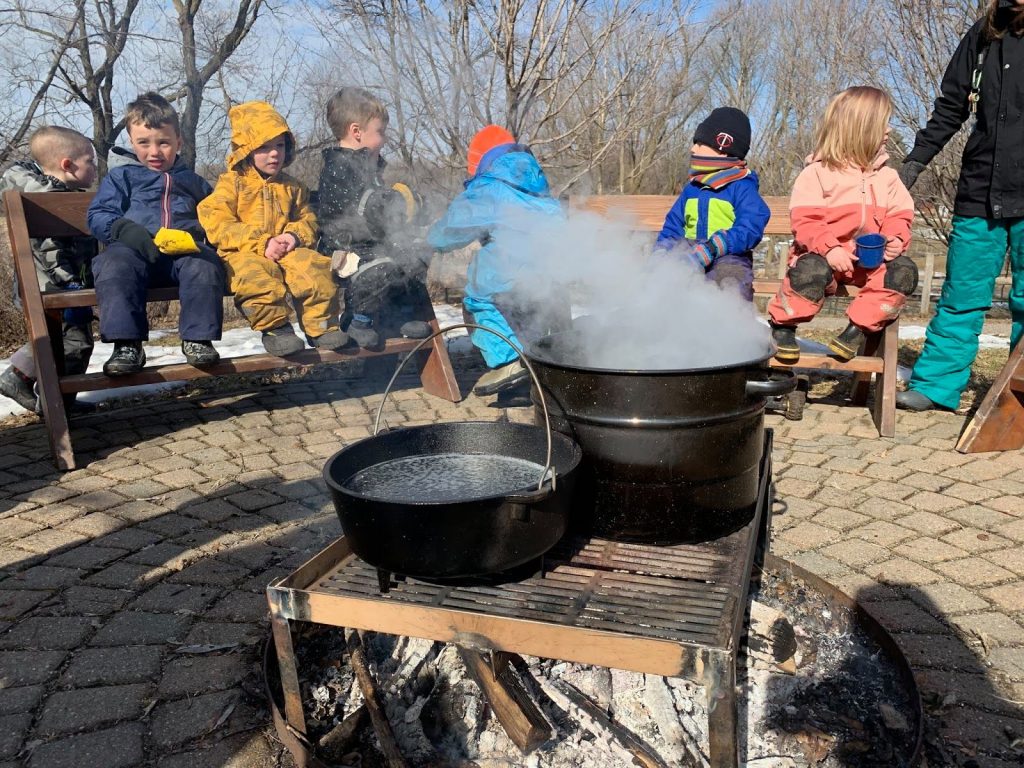 Preschoolers gather around a bonfire for story time and a maple syruping demonstration.
Jennifer Elsen is currently an assistant teacher in the Oak Room. In her seven years at Dodge, she's also worked in the Spruce and Willow Rooms, and teamed up with just about every other teacher in the building. As an educator and a mother, Jennifer has a strong sense of what makes a great read-aloud book. But she says one of the best parts of teaching at Dodge is learning from her colleagues and adopting their favorite books as her own, too.
Of course, this is a peculiar time in the 20-year history of the preschool, and Jennifer and her fellow teachers are working from their living rooms instead of the Oak, Spruce, or Willow Room. Classroom doors are shut, cubbies are empty, and the playground swings are still. In-person story time at the preschoolers' beloved Best Camp Ever (north of the Sugar Shack) or in the Piney Forest (south of the playground) can't happen right now.
Following the state of Minnesota's directive to schools regarding COVID-19, Dodge Nature Preschool closed as of Wednesday, March 18. It will not reopen until May 4 at the earliest.
But that doesn't mean learning—or reading—stop!
Once the school closed, teachers sent well-crafted "Dodge at Home" emails to families. They included directions for creative activities that reconstruct some of the much-loved practices of the preschool, including nature journaling.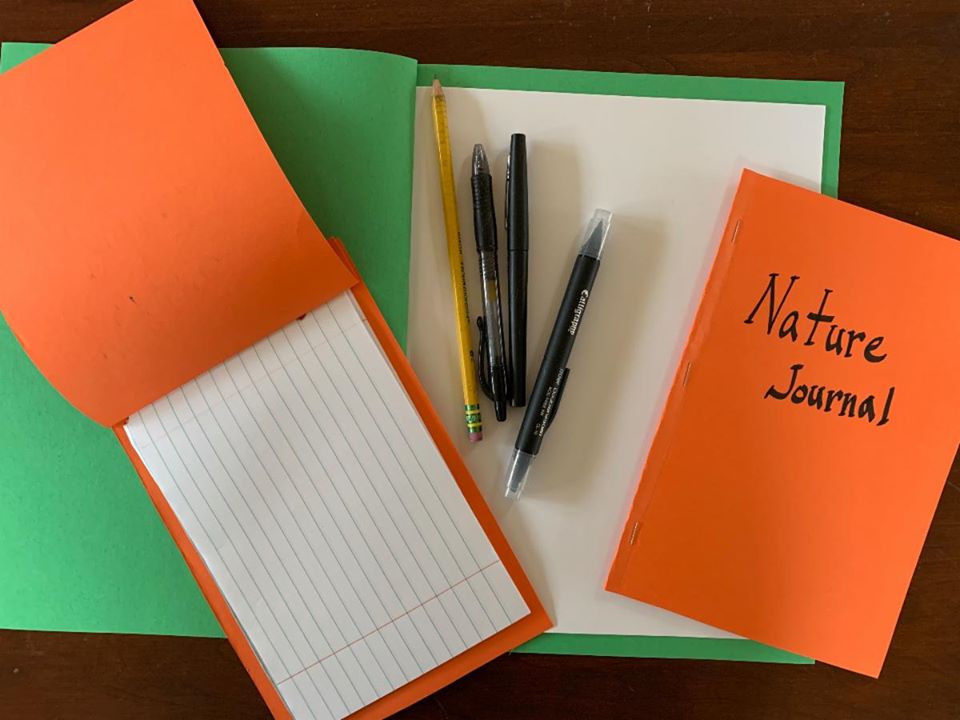 Pen, paper and pencil are all that's needed to start a nature journal.
Jennifer says the preschool teachers designed the activities with the stay-at-home order—and parental stress—in mind.
"We wanted to be thoughtful about what materials families have at home," Jennifer says. "People can't go to the store. Maybe they don't have everything on hand to make slime, but everyone has loose parts."
Teachers are offering their preschool families one-on-one conferences, too. These quieter, more personal chats let parents and teachers discuss the joys and challenges of raising young children.
One of the preschool's key missions is to prepare their students for kindergarten and beyond. To grow great readers, teachers know the most important activity is to read aloud to children every day.
So, story time continues—just on a computer screen instead of in the outdoor classroom. Each of the 11 preschool classes gets their own special video conferencing time with their teachers. Students are read to, sing songs together, do fingerplays, and share their homemade artwork.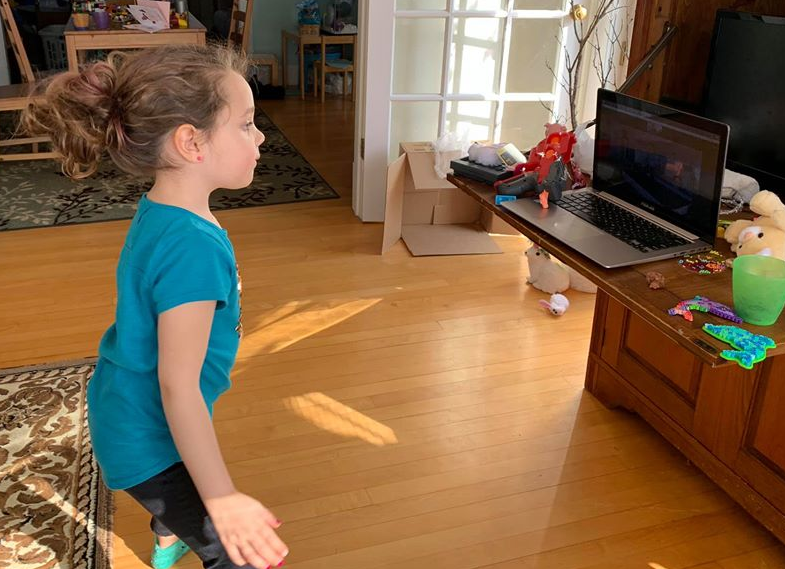 A preschooler enjoys an interactive Zoom session with her classmates.
Before starting to work from home, teachers dug through the preschool's extensive library to make sure they had read-alouds at the ready for their video story times. Here are some of their picks for the best preschooler picture books.
Seek seasonal selections
"If we were together, outside, a lot of the books we would be reading would be about the time of year," Jennifer says. "We always think seasonally because we're a nature-based preschool."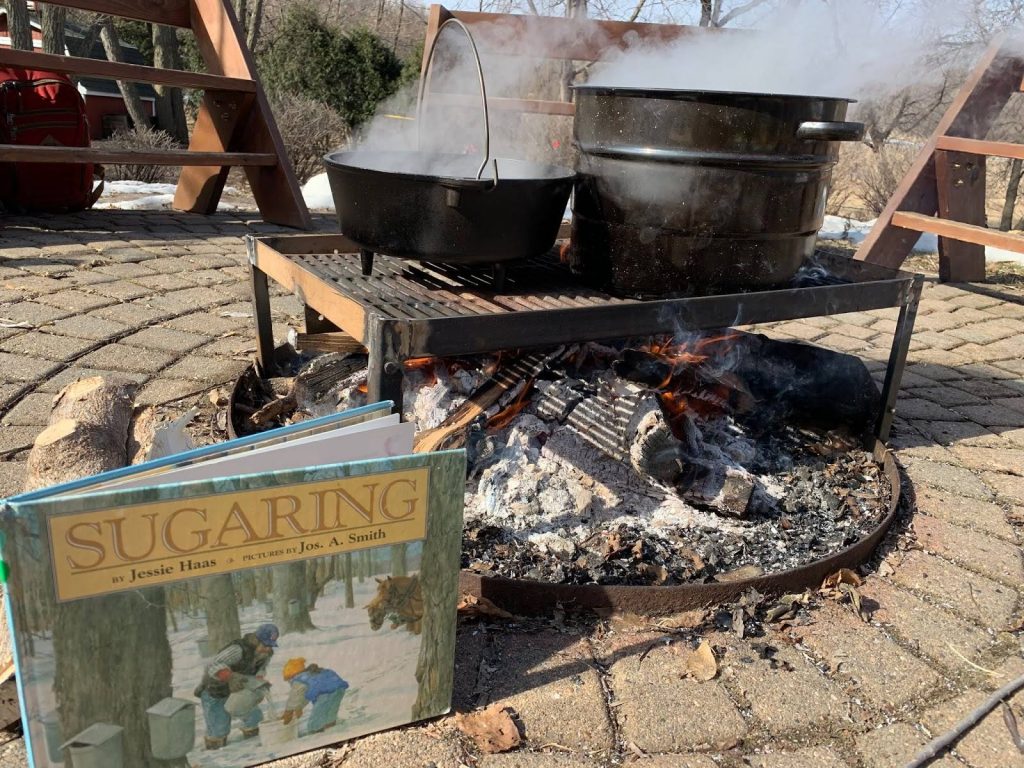 Maple syruping is a perennial favorite preschooler activity. They boil sap on the playground and have a read-aloud book to match.
In-person or online, indoors or outside, she says it's the perfect time to read about the signs of spring. It's natural for preschoolers to wonder why it's wintry one day and warm the next (and vice versa!). Books can help them understand what they're observing.
For example, preschoolers noticed silver buckets and blue plastic bags hanging from maple trees at the nature center in early March. That prompted Jennifer to pull out "Spring Thaw" by Stephen Schnur.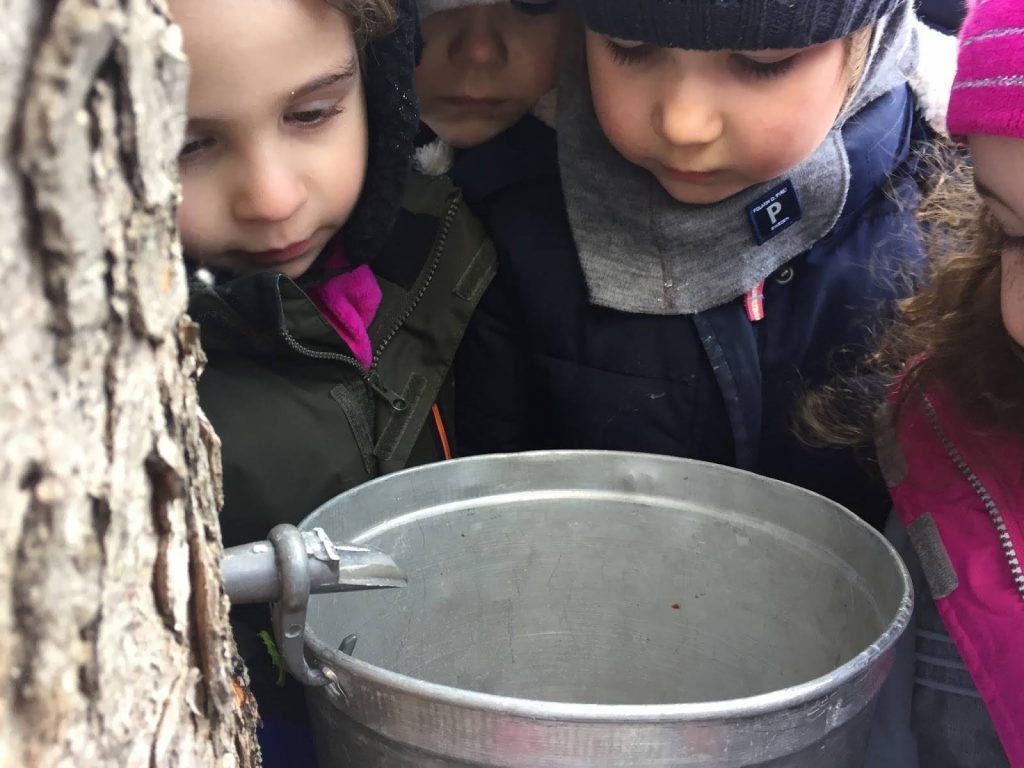 A group of preschoolers peer into a sap bucket.
"It's a wonderful book, not just about maple sap, but about flowers blooming in the snow, baby lambs, and the relationship between a grandpa and a child," she says.
For all things spring, the preschool teachers also recommend "And Then It's Spring" by Julie Fogliano and "Over and Under the Pond" by Kate Messner.
Make your picks personal
Dodge teachers usually have a book pre-selected for a class session, but they never forget to follow children's interests and discoveries.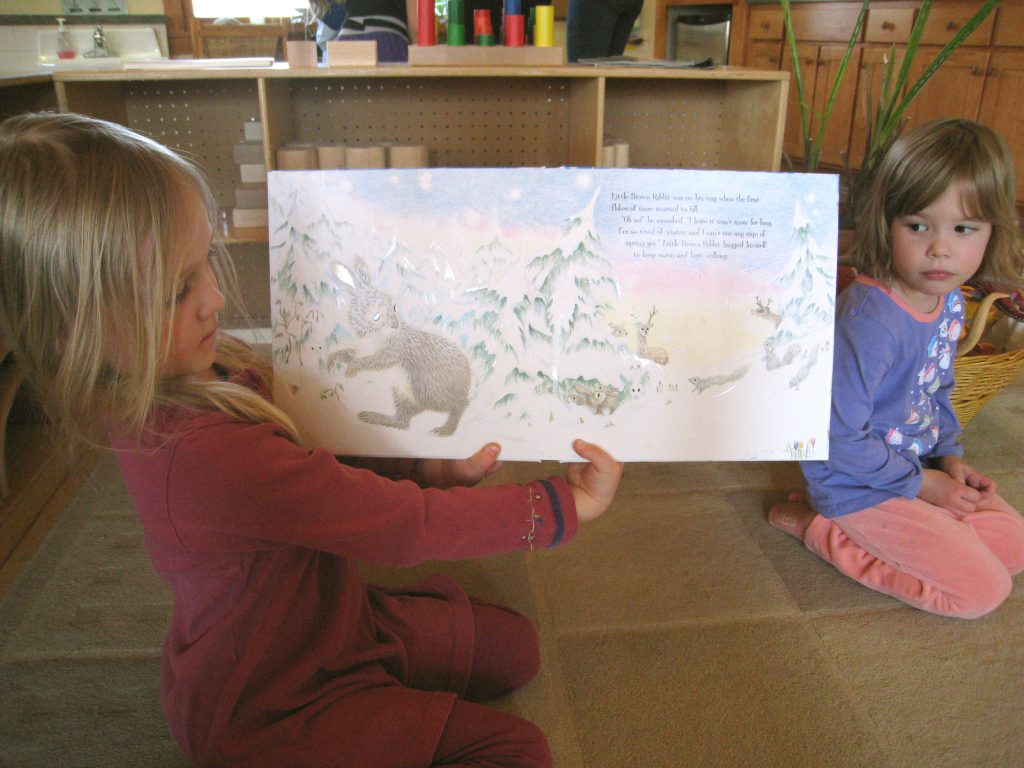 A preschooler displays a colorful page of her book.
"I've had kids that turn over every rock on the path on a morning hike," Jennifer says. "That's when I would drop my plan and pull out Rhoda's Rock Hunt, or Agate by Joy Morgan Dey."
She recalls one freezing day when her preschoolers came upon Tony and Terry, Dodge's two horses, grazing in the snowy pastures. "One child pointed to the horse, and asked me, 'He doesn't have a hat on, but I do. Isn't he cold?"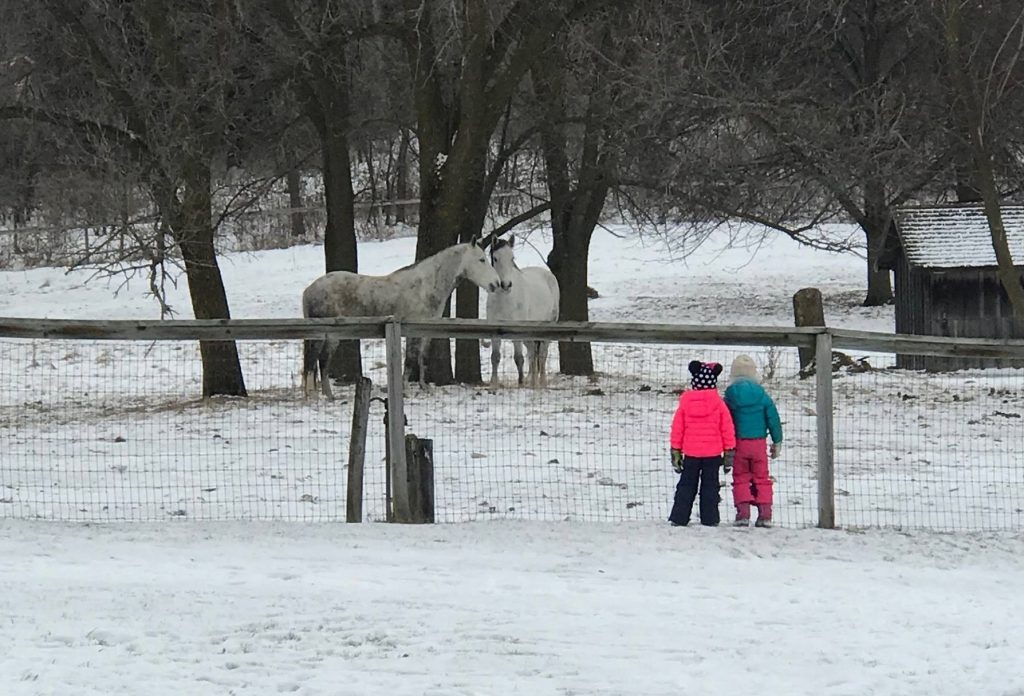 Two preschoolers watch Tony and Terry, Dodge's resident horses, huddle together on a winter day.
Returning to the classroom, they read Feather and Hair, What Animals Wear by Jennifer Ward, with illustrations by Jing Jing Tsong. They discussed how thick horsehair can keep the equines warm all winter long. Dodge classrooms are also full of bird feathers, snakeskins and turtle shells to give preschoolers a tactile understanding of animal adaptations.
"Know that nonfiction books definitely make wonderful read-alouds," Jennifer says. Fact-based books can satisfy kids' curiosity and get them thinking about even more questions and possibilities.
"When I'm picking out a book, I ask myself, what fits in this moment? What does this classroom or child need right now?" That's reading your audience, she says. And parents are already pros at exactly that because they know their children's moods and attitudes best.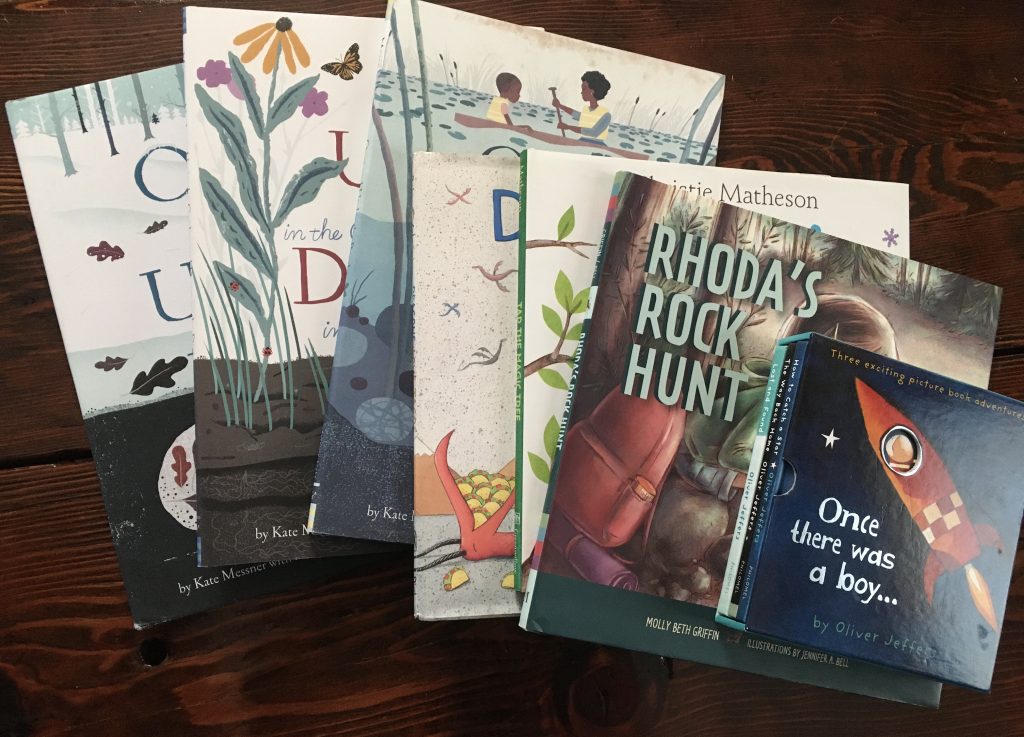 A few favorite books for preschoolers, teachers and parents alike.
Parents can read aloud from books they already own, check out e-books from the public library, or order from an online bookseller—whatever connects your family to the fun and fantasy of stories. Go find those books that are beautiful, exciting or hilarious to parent and child.
"When you love something—a certain topic, a certain book—it shows," Jennifer says.
It's the Dodge Nature Preschool way: Read a lot, read with love, and your preschoolers will respond.
Book recommendations
Bring the sing, make you move
Tanka Tanka Skunk! by Steve Webb
Listen to the Rain by Bill Martin, Jr. and John Archambault; illustrated by James Endicott
Watersong by Tim McCanna, illustrated by Richard Smythe
Appealing to any age
Dragons Love Tacos by Adam Rubin and Daniel Salmieri
The Gruffalo by Julia Donaldson, illustrated by Axel Scheffler
The Wild Robot by Peter Brown
Creepy Carrots! by Aaron Reynolds, illustrated by Peter Brown
Stay home and snuggle up
Elephant & Piggie books by Mo Willems
Owl Babies by Martin Waddell, illustrated by Patrick Benson
There's An Alligator Under My Bed by Mercer Mayer
In My Heart: A Book of Feelings by Jo Witek, illustrated by Christine Roussey