In a grassy green field, girls take on the roles of the Minnesota wildlife that call Dodge home. They communicate, relate, and survive as owls, voles and snakes. Because of COVID-19, the ecological game they're playing is hands-off—no tagging or touching—but it's definitely minds-on.
This game of Predator-Prey occupied them for over an hour, says Dodge naturalist Mary Dybvig, one of the leaders of Girls Explore Science. She developed the new after-school program to get middle school girls learning outside while their schools are in distance and hybrid models.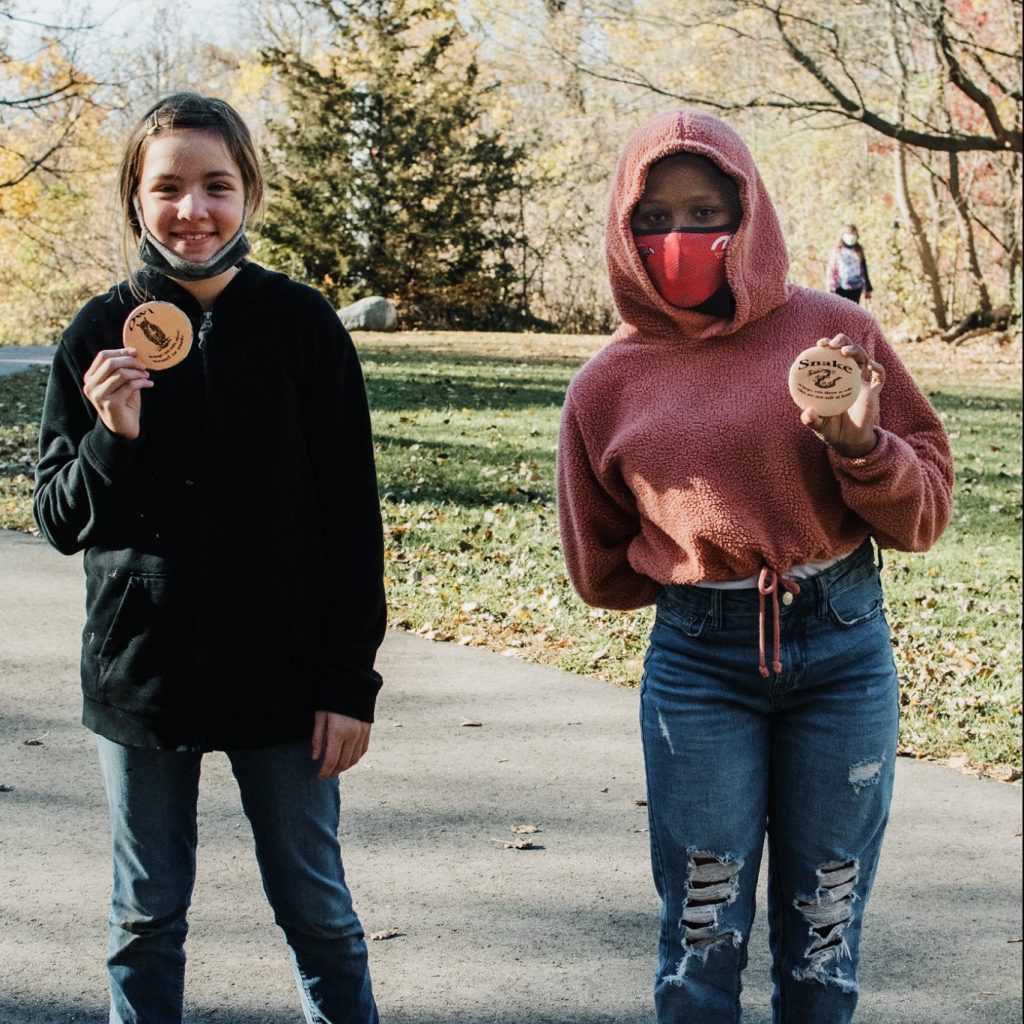 Girls Explore Science students play Predator-Prey at Dodge Nature Center in fall 2020. This interactive tag game teaches players about the food web and the relationships between carnivores, omnivores and herbivores.
"When you talk to kids, they're burned out and it's only October," Mary says. "Every kid expresses gratitude to be learning outdoors."
Dodge wants to do more for middle schoolers, an age at which many kids stop visiting the nature center. The pandemic ended up being a good time to pilot a program for this age group.
"Middle school is a socially difficult time anyway," Mary says. "So, let's ditch screens, and get them outside with their peers, in person."
On their first day, the girls dove into an intense field study called a BioBlitz, a technique used by ecologists to survey living species. In conducting real science, they're exposed to future career paths, and have female role models in Mary and Julia Abell, a Naturalist Fellow.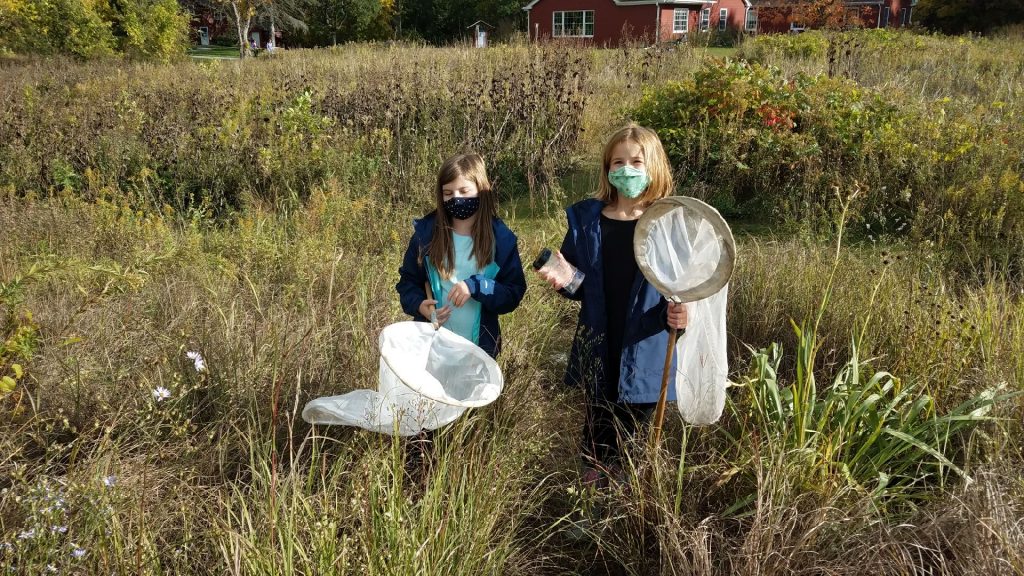 Using nets, students sweep for insects on Dodge Nature Center's restored prairie in West St. Paul in fall 2020. Any insects captured are placed in plastic jars for identification and then released back into their habitat.
They get a physics lesson on the archery range. They shoot compound bows that consist of two simple machines, a lever and a pulley. Mary wanted to complement middle school science curriculum—but also give girls the fun, empowering experience of trying a new sport.
"I want to play with girls my own age," says one St. Paul 5th grader in the program. "I like that we get to work together on projects and play games. A lot of what we're learning is new to me."
Pete Cleary, director of environmental education, says Dodge is committed to getting kids learning outside in safe and smart ways during the pandemic.
It's been near impossible to schedule in-person programs around every school district's learning model in the Twin Cities metro area. The Dodge solution is to offer a wide variety of programs, like all-day Outdoor Learning Days for elementary students. Girls Explore Science is one afternoon a week, for 4 or 5 weeks. Fall Break Camps expanded to three days over the MEA break. After-school Adventures is offered through TriDistrict Community Education; home school programs have morning and afternoon options.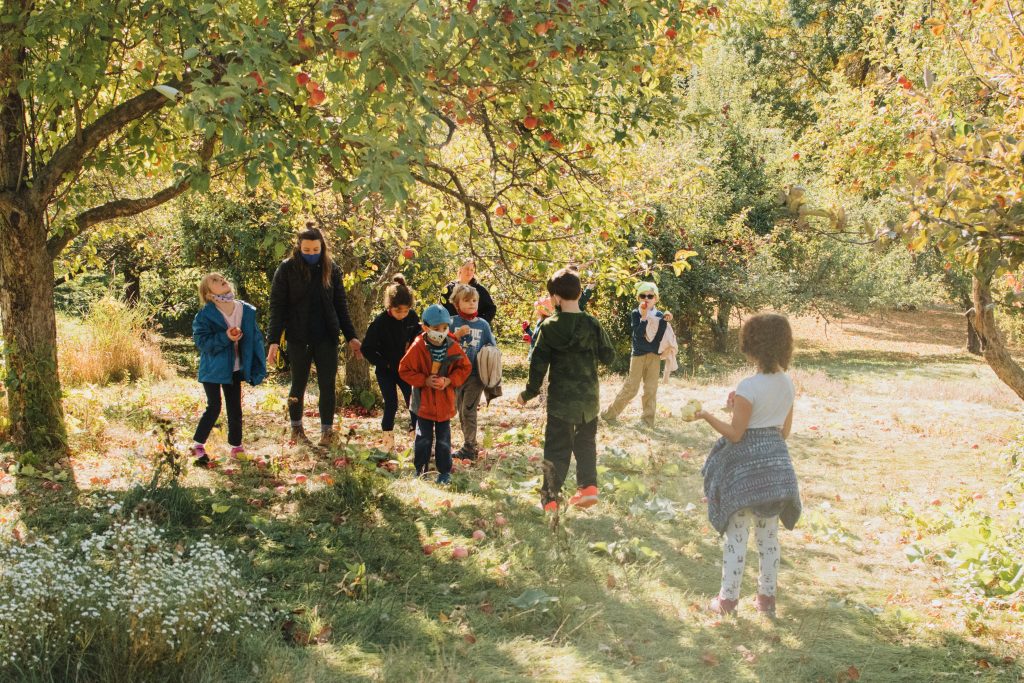 Elementary students explore the Dodge apple orchard during Outdoor Learning Days, an out-of-school program developed for students in hybrid learning models in fall 2020.
Because of support from donors and foundations, Dodge is able to branch out to bring nature to students wherever they are. Naturalists offer live video conferences and travel to schoolyards to recreate field trips.
"It is a more complex problem this fall than the usual scheduling of field trips," Pete says. "But we're going to go out of our way to make it work for teachers and principals."
As naturalists adapt field trips, they adhere to Minnesota state standards and hit all the hallmarks of Dodge teaching—outdoors, inquiry-based and, of course, fun.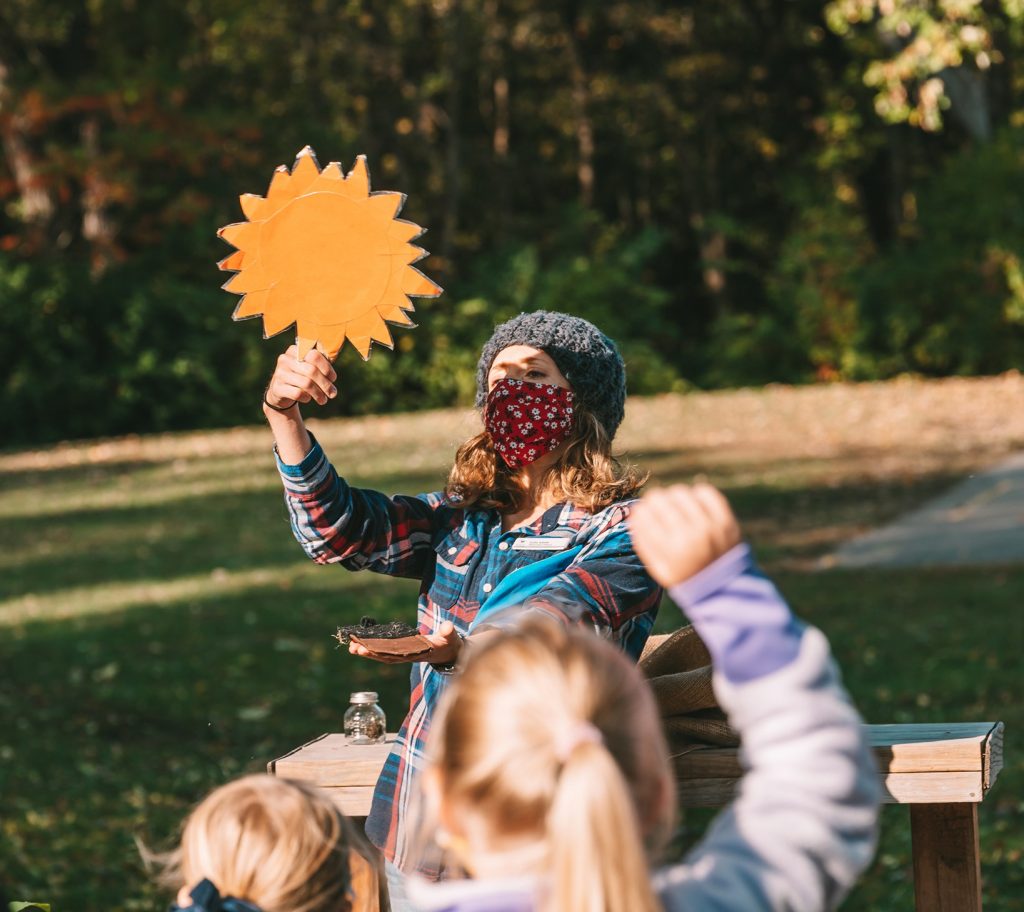 Naturalist Fellow Julia Abell brings nature learning to students in the schoolyard of Somerset Elementary in Mendota Heights in fall 2020.
Winter won't stop the outdoor learning. Another session of Girls Explore Science will extend into December. When the sun sets at 4:30 p.m., girls will transform into astronomers, identifying moon phases, constellations and planets.
As biologists, they'll use UV flashlights to search for fluorescent organisms in the woods. And hopefully these students will discover that, even when times are dark, there is brightness to be found.
This article was originally published in the Nourish Your Need for Nature Newsletter, Fall 2020.